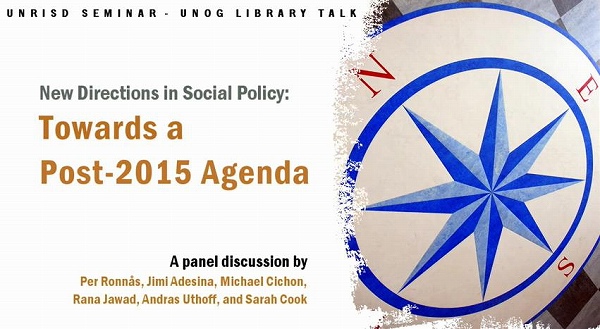 United Nations Research Institute for Social Development (UNRISD) held an interesting panel discussion at the United Nations Office at Geneva (UNOG) Library in April 2014. The discussion attempts to answer the following critical questions.
What are the changing contexts for social policy in emerging and low-income economies?
What policies are being pursued and why?
Are we seeing the emergence of new welfare systems that will be more resilient to the challenges of the 21st century?
And what will this mean for a post-2015 development agenda?
Opening Remarks
Per Ronnås, Senior Specialist, Swedish International Development Cooperation Agency
Speakers
Jimi Adesina, Professor, University of South Africa
Michael Cichon, Former Director, the ILO's Social Security Department
Rana Jawad, Lecturer in Social Policy, University of Bath
Andras Uthoff, Professor, Universidad de Chile
Moderator
Sarah Cook, Director, UNRISD